I recently rediscovered some words that I wrote down in my early twenties, way before we started documenting our lives on Instagram and Co, and a long long time before travelling with baby M was in my life.
I felt like it reminded me of what travelling is all about, being somewhere for the first time.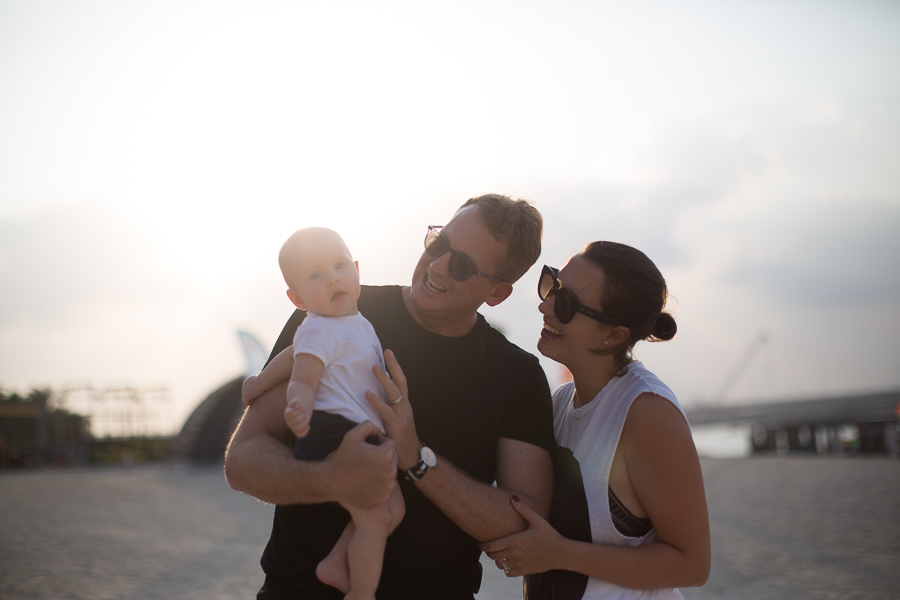 The Costa Brava, Barbados, Belize City, Bali, Barcelona, the beach in Thailand. Lost. In Mexico, Morocco, Malta, Malaysia. Tuscany, Tortola, climbing the ruins of Theothiucan, on the train from Brisbane to Cairns. Looking for waves in Portugal, for a cash machine in the jungle of Palenque, for a hotel in Paris. Markets on Lanzarote, shopping tours through London, everything closed in Lucca.
Snorkeling in Antigua, high school in Australia, a day in Amsterdam. Surprised. By the snow in the Alps, amazed by the volcanos around Lago de Atitlan. Sick on a ferry to Sumatra, scared in Guatemala City, lost in the streets of Casablanca. On the back of a horse, on the back of a truck, trying to fall asleep on my backpack.
Celebrating. Chinese New Year, a Jazz festival in Italy, the Oktoberfest in Munich, a Surf contest in Puerto Escondido. Christmas in Mexico, in the Caribbean, at home in the snow. Travels with my boyfriend, my family, my best friend, people I just met. In a group, on a tour, by myself.
I often think of all the people I would have never met if I would have stayed at home. The people I chatted to while waiting for delayed planes, I talked to in a bar, I asked for the way, I sat next to on the beach while looking at a breathtaking view or a beautiful sunset and people I met while waiting for a bus in the middle of the night.
You talk. Where are you from? Where have you been? Who are you? Who am I? Who do we think we are? Do we really now?
You know that you will be together for a certain amount of time. Only. Maybe a couple of minutes, hours, a day. Knowing that makes you try to get to know each other even better, makes you become friends, maybe even soulmates, both sharing unique moments of your travels together. Travelling seems to makes us feel everything even more intense. And as quickly and unexpected, as this person came into your life, it might be gone.
Suddenly the unexpected happens. You cross borders and go beyond limits you never thought you would. You take risks, you are scared to death, sometimes you are homesick, sick of carrying your bags, your mates annoy you, the mosquitos annoy you, annoyed by yourself. Stuck in an overloaded bus. The bed too hard, no warm water, no water at all. Trying to get at least a little bit of sleep. It's colder than you thought, hotter, wetter. You feel sick. Planes are late, buses don't show up at all, people rip you off. You try to think of nice things. Your family, your friends, your comfy bed at home, you try to remember good times and times where you felt even worse. You question yourself, your strength to go on, you cry.
A fresh morning, another country to tick on your list, another amazing sight, new cultures, new people, new places. Once only a spot on the map, now here, filled with life. I've been there.
Travelling seems to have a own kind of energy, that once you have let it out, will never allow you to settle down. Once you started going on trips, your journey will never end. It will change the way we feel, talk, how you think, about what we laugh. The way we treat people, the way you live. It changes your life. I will never be the same and I never had a choice. This feeling of my feet being itchy to get on the road again, will never go away. And I wouldn't want it to.
Travelling makes me realize how much I still have to learn, gives me time to think, to dream, helps me to forget. Absolute freedom to choose what way to take, letting yourself go, amazement, excitement, happiness. Travel on, go back. Expect the unexpected. Let yourself go, fall in love with people, places, food, a hammock on the beach, a dog, that little bar somewhere in Mexico and this guy from the other end of the world, that you met in there one night. Remember, forget, forgive – and meet again. And last but not least take lots of photos to show to your friends and everybody that wants to see them. Make them pack their bags and start or continue their journey. Over and over. Again.
And while we are starting to go back to some of our favorite destinations, my husband and I feel like we are getting to experience all these first time feelings through the eyes of baby M.
Because there is nothing quite like travelling somewhere for the first time. Again.